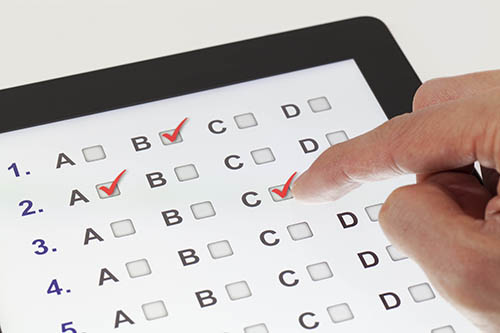 I can't emphasize enough about the importance of survey design.  An optimized survey question is capable of delivering precise data and valuable insights for business growth.
In previous entries, I've addressed common survey question mistakes.  These slips can severely weaken the purpose of your survey.
Since I recently went over the concept of the absolute question, it is important to cover what I call the multiple choice blunder.
Let's take a look at the following question:
How many times a week do you run?

1-2 times a week
2-3 times a week
3-4 times a week
4-5 times a week
5-6 times a week
6-7 times a week
What's wrong with these choices?  They overlap and cause confusion among survey respondents.  It makes the question difficult to answer.
Imagine this scenario: a respondent, who happens to run 6 times a week, is confused about picking a choice.  The person chooses the last one, 6-7 times a week, and the participant is categorized as someone who runs daily.
Not only is the response misleading, but the entire survey data set is now compromised.
Instead, you can make sure that there's one definite answer among the choices.
Here's an alternative question to consider:
How many times a week do you run?

1-2 times a week
3-4 times a week
5-6 times a week
Daily
Never
As you can see, there's no room for confusion with these choices.  Survey respondents are able to pick the right answer, making it easier for you to collect useful data.
Have you encountered multiple choice blunders before?  How did it affect your survey data?  In case you were a participant, how did it affect your responses?
Share your experience in the comments below.
I am a freelance marketing consultant who is enthusiastic about user trends, market research, survey design and Social Media marketing.